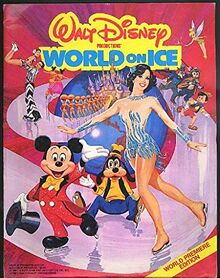 Disney on Ice is a skating event produced by Feld Entertainment, where figure skaters pose as Disney characters in performances inspired by Disney films. It is an international touring show and was first introduced in 1981 as Walt Disney presents World On Ice. The shows are usually between 1 hour and a half to 2 hours, including 15-20 minute intermissions.
Disney on Ice: Let's Celebrate!
[
]
The Halloween Segment is an event featuring Jack Skellington from The Nightmare Before Christmas. This show is featured around the Halloween season. In the event, Jack is partnered with various villains from other Disney movies, such as Captain Hook, Maleficent, Cruella de Vil, Jafar, and The Evil Witch. The event features songs from the movie, such as Jack's Lament, What's This?, and This Is Halloween.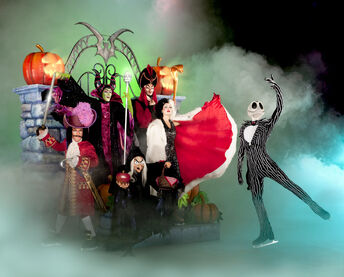 The segment begins with Mickey Mouse planning a Halloween party. He decides on having the Pumpkin King as a host. Jack enters the event and greets Mickey, agreeing to host the Halloween celebration. Mickey leaves to prepare for trick-or-treating, where Jack begins to fill the party with guests.
A doorbell sounds, alarming the guests. The first villain to arrive to the party is Cruelle de Vil, who Jack mistakes as someone wearing a Halloween costume. She sings and dances along with Jack before they're interrupted with another doorbell. The next villain who arrives is Captain Hook, who agrees to stay and celebrate. He joins in on the song and dances beside Cruelle de Vil and Jack.
Another doorbell sounds again, and the next guests are Jafar, Maleficent, and the Evil Witch. Jack compliments their costumes and tries to figure out who they are. The villains start taunting the crowd before Jack interrupts them and insist they continue on with the party. They all agree and continue to sing and dance. After Jack is convinced that they have the "frightful fun" down, he leaves the party to go leave for some spirited fun. He wishes the crowd Happy Halloween before leaving the party, thus ending his appearance in the event.
Gallery
[
]
Videos
[
]