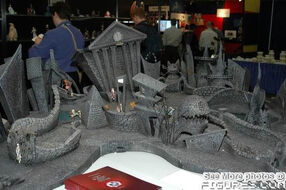 Halloween Town is one of the seven Holiday Worlds. It is the home of Jack Skellington, Sally, Doctor Finklestein and other Residents. Outside the Town is a Graveyard and the iconic Spiral Hill leading into a magical forest called the Hinterlands which contains the Holiday Doors leading to other holiday-themed lands such as Christmas Town.

ME'S AKUMU NAGUNATA'S:
MYSTIC PSYCHOMPOMP WORLD'S
The Occult Mansion
Underworld
Pentacle City
The Land of the Dead
Waterfall Island
Illthid Island
Yokai Kingdom
Neitherworld
Grub Cafe
Audition Fair
Demon Academy
Chupa Chupa Arty Room
Springes Hospital
Mage Castle
Shinto Castle
Spider Castle
Moonlit Day Care
Nightmareclub
Rose Garden
Burger Meister
Trick or Treat Selled
Glow Chemist
Dunegon Blast Meister
Meister Super Bowl
Skull Beer
Grub Noodle
Yuki-Onna's Restaurant
Artifact Souls Factory
Succubus Cha Store
Treasure Hunt
Wererat's Cheddar Hungry
Viking Frozen Cool Demand
Dentist of the DullÍhan Professor
HerbShop
BetobetoSake
Herb Shop
Family Shop
Leather Store Factory
Lady Morrígan Lee's Rock-star Guitar Bass Meister Weapon
Chamber
Magic
Ruin
Mummy Desert Pyramid
Wraith Seller's Grim Soul
Sekhmet's Foetune Telling Psycho
Undead King's Healing Recover Necromancy Magic Power
Beholder King's
Mephistopheles's
Bigfoot Fat Boy's
Yokai Shop
Otaku of the BetobetoSans
Obake Scary Horror Haunted Scary
Underworld Amusment Park
Karakasa-Scary-Go-Round
Long-Necked Coaster Ride Yokai
Florida
Orlando
Orlando's McDonald's Restaurant Foods Fast
Nightmarespherwe
Mystic Manor
Mermaid Paradise
Jiangshi Express
Goblin Town
Dr. Henry Jekyll's House
Bowl EyeBall
Demon Clock Tower
Grisly Bridges
Deep Submarine
Deep Monster Oeacn
Kraken Aquarium
Drain Brain Doctor's
Devil Pizza's
Psychompomc Thewater Cimera
Destination Island
Bacon Island
Exorcist Science
Trailor Nean Thriller's
Woodman's
Sweet Devil's
Clay Emethic Youkai
Minor AKUMU NAGINATA'S: ALL MINORS GUIDE MYSTIC PSYCHOMPOMP WORLD....
Real World.
Community content is available under
CC-BY-SA
unless otherwise noted.