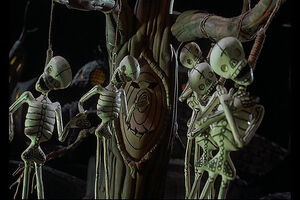 The Hanging Tree is a citizen of Halloween Town. He is a large tree with a face that can walk around. Instead of leaves, five skeletons hung by nooses are on this tree.
He is voiced by Thurl Ravenscroft in the movie and by Dee Bradley Baker in Oogie's Revenge.
Oogie's Revenge
The Hanging Tree appears in the cemetery where he asks Jack to help him find his hanging men. They ran off when Oogie's Skeleton Minions began infesting the grave yard; as hanging men aren't very brave. Once Jack finds all five of the men, the tree opens the path to the crypt for Jack.
Gallery