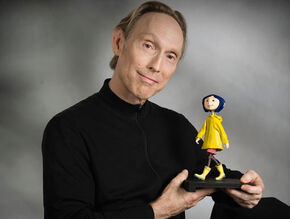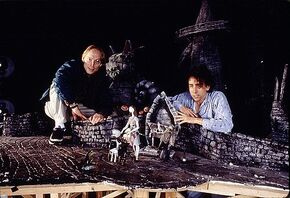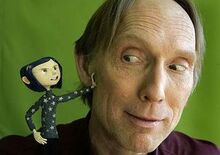 Henry Selick is the director of The Nightmare Before Christmas. His work also includes the films, James and the Giant Peach, and most recently, Coraline. Coraline was Selick's first feature film with the Portland, Oregon-based animation studio, LAIKA. Also his upcoming film Wendell and Wild on Netflix.
Filmography
[
]
Director
[
]
Phases (CalArts)
Tube Tales (CalArts)
Seepage (1981)
Slow Bob in the Lower Dimensions (1991) TV
The Nightmare Before Christmas (1993)
James and the Giant Peach (1996)
Monkeybone (2001)
Moongirl (2005)
Coraline (2009)
Wendell and Wild (2022)
The Nightmare Before Christmas
[
]
Henry directed The Nightmare Before Christmas and co-founded the production company, Skellington Productions, with Tim Burton. According to him, Burton came to Henry asking if he'd direct the film because of being nervous on the set, to which he agreed, and began production in 1990. He was in charge of directing everything, but still sent things to Tim and would have him check out the stage at times. Burton supported and protected Nightmare's production in faith of the crew, enabling them to not receive many notes from the studio.
Selick says the most difficult character designing and animating was Oogie Boogie, being big and shapeless, and took four months animating the scene where his bugs get uncovered. He also says giving the voice acting role of Jack Skellington to Chris Sarandon upset Danny Elfman, and had to go to Burton to approve the idea. He also says that the alternate ending he came up with where Dr. Finkelstein was unveiled to be Oogie Boogie upset Tim, and had to be scrapped. The shots where Santa Claus goes back and sets things right also upset Tim, but was kept in the movie due to the positive response it got from friends.
In an interview, he admitted that the fact that Burton gets the "credit" for "directing Nightmare Before Christmas" was annoying, insisting it was a marketing tactic used by Disney that only went on a month after the film's release. He says that he was pushed far back with getting credited for the movie, but believes it was a good marketing step towards the movie.
25th Anniversary
[
]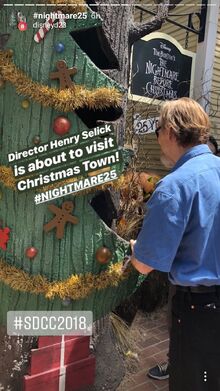 Henry Selick made an appearance at the Hornton House artistic celebration of The Nightmare Before Christmas' 25th anniversary, and visited the displays of Jack Skellington heads created by a team of 500 artists.
Later on, he attended the panel event hosted by the D23 Disney Fanclub at the San Diego Comic Con on July 21st, 2018 accompanied by Kelly Asbury, Anthony Scott, and Edie Ichioka. The panel event also starred Neil Gaiman as the host. His appearance was applauded by fans.