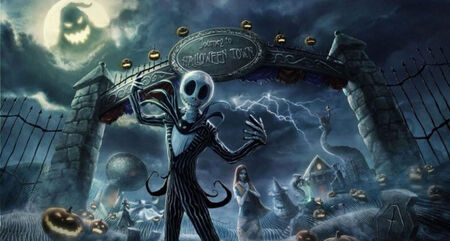 Jack's Journey to Halloween Town is a walk-through event in Hong Kong Disneyland celebrating The Nightmare Before Christmas' 25th anniversary.
Experience
[
]
Guests visit Halloween Town through the Pavilion, which has been redecorated with scenes & music from Nightmare, which are also accompanied by life-size animatronic incarnations of characters like the Halloween Town Band, Vampires, Mayor, Lock, Shock, and Barrel, who join live characters like Jack Skellington, Sally, and Oogie Boogie.
"Frightful antics ensue during Halloween, when Jack Skellington and his friends, joined by more Disney Villains you have yet to meet, are going to "crash" the party, create mayhem and turn the park upside down in a true Halloween Time spirit!"

Halloween Town is recreated with the facade of a giant mausoleum in the Memento Mori Public Cemetery , where the fountain from This is Halloween and a central hub welcome guests. The Mayor and Halloween Town band can also be seen greeting guests here.
"Venture into Dr. Finklestein's Lab, where Jack Skellington's friend Sally desperately needs your help. You just might see Jack himself while exploring. Make sure you stay alert, as the evil Oogie Boogie will be out to get you and your friends in his lair!"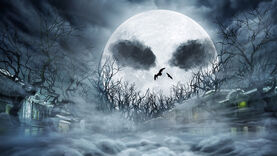 The visitors are then ushered into Dr. Finklestein's Laboratory, with Sally preparing a "special treat" and asks for help with the ingredients. She adds them just before Finklestein's shadow appears, and the guests are promptly rushed out into the Town Hall so they can finally see Jack, meeting the Vampire Brothers on the way.
There, Jack Skellington gives an entertaining speech behind a podium, keeping guests preoccupied until they leave the Town Hall. Then they are faced with Lock, Shock, and Barrel with a "guest prisoner". They soon find that Oogie Boogie is tormenting someone in the dungeon, where Jack swoops in to save them and finishes the adventure.
In the exit, guests find the iconic Spiral Hill and Cemetery gates for photo ops.
Artist Interpretation
[
]
Ride Photos
[
]
Videos
[
]
Trivia
[
]
Only Sally's parts are spoken in English, while the rest of the ride is spoken in Chinese.
Hong Kong, Disneyland does not have their version of the Haunted Mansion Holiday, making Journey to Halloweentown their Halloween and Nightmare Before Christmas celebration.