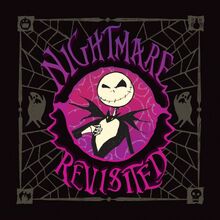 "Nightmare Revisted" was released by Walt Disney Records Sept 30, 2008. In contains 18 covers by various artists, and 2 re-recordings by Danny Elfman. All songs have been covered by an artist excluding the opening, and closing music. Artists are DeVotchKa, Marilyn Manson, The All-American Rejects, Amiina, Flyleaf, The Polyphonic Spree, The Vitamin String Quartet, Sparklehouse, KoRn, Rise Against, Yoshida Brothers, Rodrigo y Gabriela, Amy Lee, RJD2, Plain White T's, Datarock, Shiny Toy Guns, The Album Leaf, Tiger Army and obviously Danny Elfman.
Overture - DeVotchKa
Opening - Danny Elfman
This Is Halloween - Marilyn Manson
Jack's Lament - The All-American Rejects
Doctor Finklestein / In The Forest - Amiina
What's This? - Flyleaf
Town Meeting Song - The Polyphonic Spree
Jack & Sally Montage - The Vitamin String Quartet
Jack's Obsession - Sparklehorse
Kidnap The Sandy Claws - KoRn
Making Christmas - Rise Against
Nabbed - Yoshida Brothers
Oogie Boogie's Song - Rodrigo y Gabriela
Sally's Song - Amy Lee
Christmas Eve Montage - RJD2
Poor Jack - Plain White T's
To The Rescue - Datarock
Finale / Reprise - Shiny Toy Guns
Closing - Danny Elfman
End Title - The Album Leaf
Oogie Boogie's Song - Tiger Army
Enjoy!
Community content is available under
CC-BY-SA
unless otherwise noted.