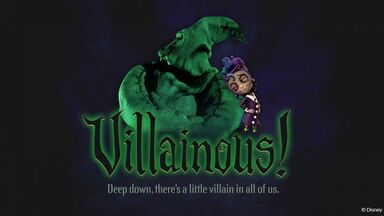 The Oogie Boogie Bash is an upcoming Disney Halloween Party in Disney California Adventure for 2019. It will feature the debut of a "World of Color" nighttime spectacular show called "Villainous!"
The new World of Color: Villainous! nighttime spectacular is a show exclusive to the Oogie Boogie Bash. It follows the twisted tale of a young girl named Shelley Marie on a journey exploring the villainous side of Disney characters.
"Oogie Boogie weaves a Halloween tale about a young girl named Shelley Marie. Shelley has a decision to make about her Halloween costume this year, and finds herself wondering if she could really be as strong and unique as some of her favorite Disney characters. The twisted tale carries Shelley on an unforgettable journey, exploring the villainous side of Disney characters through fountains, lights, lasers, projections, and special effects. "Villainous!" shows guests that, deep down, there's a little villain in all of us."
Candy will be handed out to children during this event from cauldrons along trick-or-treat trails throughout the park. The Mad Hatter from Alice In Wonderland and Oogie Boogie from The Nightmare Before Christmas will oversee the candy gathering from thrones.
The event will also feature a DescenDance Dance Party, Villains Trail, Frightfully Fun Parade, and Mickey's Trick and Treat.
Previews were released for the merchandise that will be handed out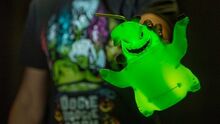 during the Oogie Boogie bash, which includes specialized t-shirts, headbands, a light-up Oogie Boogie Bash Sipper, and delicious sweets such as an Oogie-Boogie inspired funnel cake fries or a drink dice glow cubes.
Community content is available under
CC-BY-SA
unless otherwise noted.