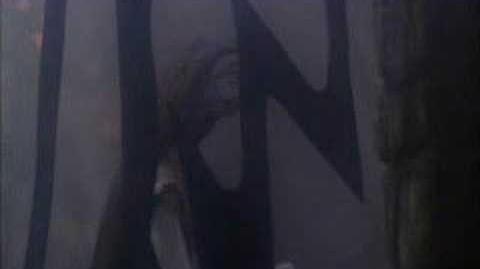 This song is sung by Sally after Jack leaves to do Christmas when her plan to stop him fails. During her song, she sings about how she hopes that Jack is safe, yet she feels that Jack will never accept her feelings for him. Also the rabbids sang it.
Lyrics
[SALLY]
I sense there's something in the wind
That feels like tragedy's at hand
And though I'd like to stand by him
Can't shake this feeling that I have
The worst is just around the bend
And does he notice my feelings for him?
And will he see how much he means to me?
I think it's not to be
What will become of my dear friend?
Where will his actions lead us then?
Although I'd like to join the crowd
In their enthusiastic cloud
Try as I may, it doesn't last
And will we ever end up together?
No, I think not, it's never to become
For I am not the one
[RABBID #1]
Bwa bwa bwa bwa bwaaaa
Bwe abwa bwa bwa bwa bwaaaaaaa
Oogie's Revenge Version
Sally: We should have known not to believe and things would not have turned so bad.
Jack: It's true his plan was to deceive, but that should not make you so sad.
Sally: But danger waits at every turn.
Jack: And I am ready to set things right here.
Sally: How can you say? That you will be okay And come back another day? What will become of our dear town? Now that we've led our leader down?
Jack: You know dear Sally , that's not true. We can take this town back me and you.
Sally: There's so much danger, yet to face.
Jack: But I'm not worried! Back home I hurried.
Both: Now we must stop, that evil Oogie's scheme. And save our Halloween.
Community content is available under
CC-BY-SA
unless otherwise noted.